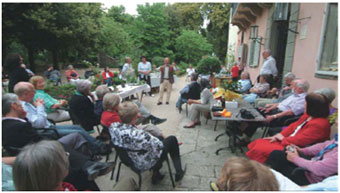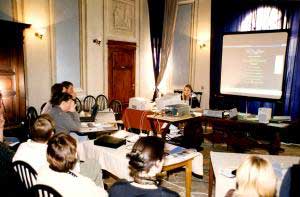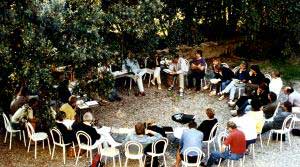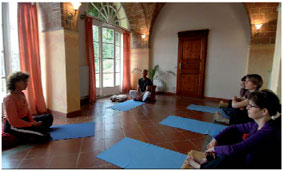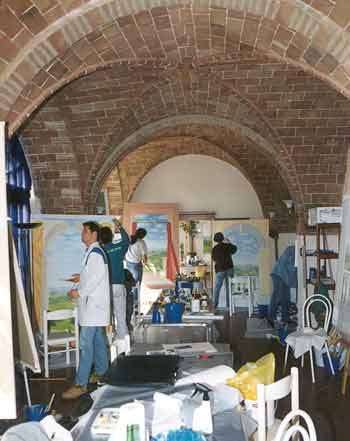 Villa Palagione - an ideal place for
Group Tours
Seminars
Symposia
Study trips
Educational trainings
Conferences

Here you will find peace, concentration and a cultured atmosphere in which you can completely dedicate your attention on seminary topics. Our beautiful, fragrant gardens invite you to relax, sun bathe and get new energy. You can take walks to the surrounding landscape, climb our local Monte Voltraio, hire Mountain bikes.

There is also an extensive library with multilingual literature for you to take advantage of. Our seminary and conference rooms offer multimedia equipment, and - if needed - we can arrange for translators, organisation and programme managers, as well as expert speakers to assist you.

On request we can put together an individually tailored cultural programme with sightseeing trips, excursions, meetings and contacts with local groups and institutions.

Our in-house Tuscan cuisine varies according to the seasons and includes a breakfast buffet, lunch and dinner (Italian 4-course menu, drinks not included) featuring regional specialities. During breaks or in the evenings you can take a glass of wine or a cappuccino at our house bar.
Villa Palagione - a central starting point for your study trip

Villa Palagione is situated in the heart of Tuscany. Important historical cities like Volterra, San Gimignano, Siena, Florence, Lucca and Pisa are within 30 minutes' to one and a half hours' reach by car. Numerous cultural traces can be found here, of Etruscan, Roman as well as of Mediaeval and Renaissance times. Modern art is at home here, too, as can be seen in many regional events and exhibitions. The sea is close and invites you for a swim, a hike or a boat trip. In fact, why not spend a day on the isle of Elba? The Tuscan countryside awaits you with breathtaking views from a seemingly endless amount of hilltops capped with mediaeval villages and hidden forts. Many secluded, hidden tracks will lead you through scented valleys with olive groves, orchid-scattered meadows, and wheat fields dyed bright red with poppies inviting you to experience nature with all your senses. A picnic on a typical Tuscan farm with local products such as goat's cheese, salami, olive oil, wine and honey or even a wine tasting will help you and your group to relax and create a good atmosphere. All you have to do is choose. Maybe we can advise you? For your city trips we will organise local guides who not only know the history, art and culture of the town you're visiting, but will also introduce you to the everyday life and customs of this place. If needed, we will provide you with English-speaking tour guides and also organise busses to drive you to your chosen destinations. You can safely arrive by train or bus - we will collect you and take care of you and your group. Villa Palagione is a place of quiet and tranquillity which after an eventful day welcomes you to relax in pleasant company and look back on the things seen and heard under a starlit sky. You will return home full of new impressions, knowing that you are welcome to return here any time to experience more of the numerous treasures of Tuscany.
Villa Palagione offers accommodation for up to 50 guests. The Villa features 11 double rooms and on single room, all with its own shower, toilet and heating. Almost all of the rooms here feature murals, vaultings and terracotta floors.

The Arcades Building features 8 double rooms, 1 single room, and 3 apartments, again with their own toilet, shower and heating. The rooms here are less opulent than those at the Villa, however almost all again feature vaultings and terracotta floors and offer beautiful views on the surrounding landscape.

All of the rooms are furnished individually.
Seminary- and Conference Rooms

Arcate:

Bright rooms with terracotta vaulting and arched glass doors leading directly to the porch.
Small room: 4.70mē x 7,50mē = 35,25 mē
Big room: 4.50mē x 10.60mē = 47.70 mē

Sala Degli Specchi:

Our biggest, most representative conference room situated on the "master floor" of the villa, decorated with beautiful frescoes and murals.
6.9mē x 10.60mē = 73.14 mē

Sala Gotica:

Also located in the villa, this conference room built in neogothical style again features beautiful frescoes and murals.
4.85mē x 8.70mē = 42.20mē

Chapel:

The simple but beautiful chapel attached to the villa offers marble floors and a calm, meditative atmosphere. The altar can be divided from the rest of the room, as it is not available for seminary purposes:
4.60mē x 5.83mē = 26.81mē
Total space: 6.76mē x 5.83mē = 39.41mē

Orangery:

Closed, roofed-over rooms with big glass doors and a porch, specially suited for painting, pottery or sculpturing courses. No heating available.
Serra I: 2.60mē x 8.20mē = 21.32 mē
Serra II: 2.60mē x 8.60mē = 22.36 mē
Tuscany is suitable for seminaries and study trips throughout the year. The main travelling season is from late March-June and September/October. From November to March there are few tourists and the cities and museums can be viewed at one's leisure. Concerning the weather, the following summary will give you an overview of average temperatures and precipitation.
| | | |
| --- | --- | --- |
| | Temperature (°Celsius) | Days of precipitation |
| January | 2°-8° | 8 |
| February | 3°-10° | 7 |
| March | 6°-14° | 8 |
| April | 8°-18° | 8 |
| May | 12°-23° | 8 |
| June | 16°-28° | 7 |
| July | 19°-31° | 3 |
| August | 18°-30° | 4 |
| September | 16°-26° | 6 |
| October | 11°-19° | 9 |
| November | 7°-13° | 10 |
| December | 3°-9° | 9 |
An Example of the Programmes on Offer for Your Study Trip

Villa Palagione is at close distance of many historically and culturally interesting cities. We are happy to advise in your specific choice of programme. In the following we present you an example for a week of cultural events:
Saturday
Arrival
7.00 pm
Small reception in the Villa
7.30 pm*
Dinner (4 course Tuscan meal)
Sunday
8.00-10.00 am*
Breakfast Buffet